Kitten Heels History
Ever since the medieval times, shoes with high heels represented status and wealth of the wearer (both male and female), but such fashion statements were soon discarded when females started wearing high heeled shoes as a fetish symbol of sex and beauty. The most important moment of such philosophy came with the 1954 introduction of Stiletto high heels by the French shoe designer Roger Vivier. However, because stiletto heels were viewed as a blatant item of showcasing your sexuality, many women or young girs did not have the courage or funds to use them in the environment that tried to subdue such fashion statements. For that purpose, designers very quickly managed to popularize Kitten Heels under the name of "training heels".
Kitten Heels slowly became widespread in the population of the North America and Europe during late 1950s, when girls of ages 13 and up used them to accustom themselves to the unease walk that high stiletto produces. These shoes were small, light, and had a slender heel that was only 1.5 to 1.75 inches high with a slight curve that set the heel in from the edge of the shoe, and a slightly pinpointed toe that complements the femininity of the wearer. As those young girls grow old, they suddenly found themselves using kitten heels more and more, ignoring the high Stiletto models that were coming out of fashion during early 1960s. With good marketing campaign and their presence in the entertainment industry (actress Audrey Hepburn greatly popularized this design of shoes, especially during her performance in the award winning 1954 movie "Sabrina") Kitten shoes soon became popular with both young teenagers and older women in the western hemisphere.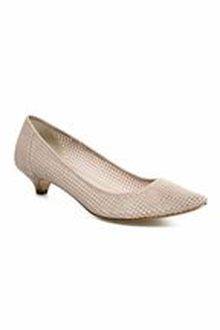 After the short decline during 1970s, kitten heels returned to fashion in the 1980s, with another return in 2003. This latest fashion reappearance of the kitten heels never managed to reach past heights because of the success that stiletto heels have today, but many famous designers around the world try their best to promote kitten heels with all of their power (for example Manolo Blahnik and Christian Louboutin).