Types of Shoes - Man's and Women's
Men's Shoes
Oxfords (Balmorals) – The main feature of this shoes I V-shaped slit in vamp where laces are attached.
Blüchers (Derbys) – Similar looking as Oxford's, but laces are attached to two pieces of leather that are glued or stitched to vamp.
Monk-straps – Shoes that don't have laces, but instead uses buckle and strap to secure the shoe around the foot.
Brogues – They feature decorative perforations and separations along the visible edges of material. Previously used primarily in outdoor footwear, brogue perforations can today be found in many types of casual shoes.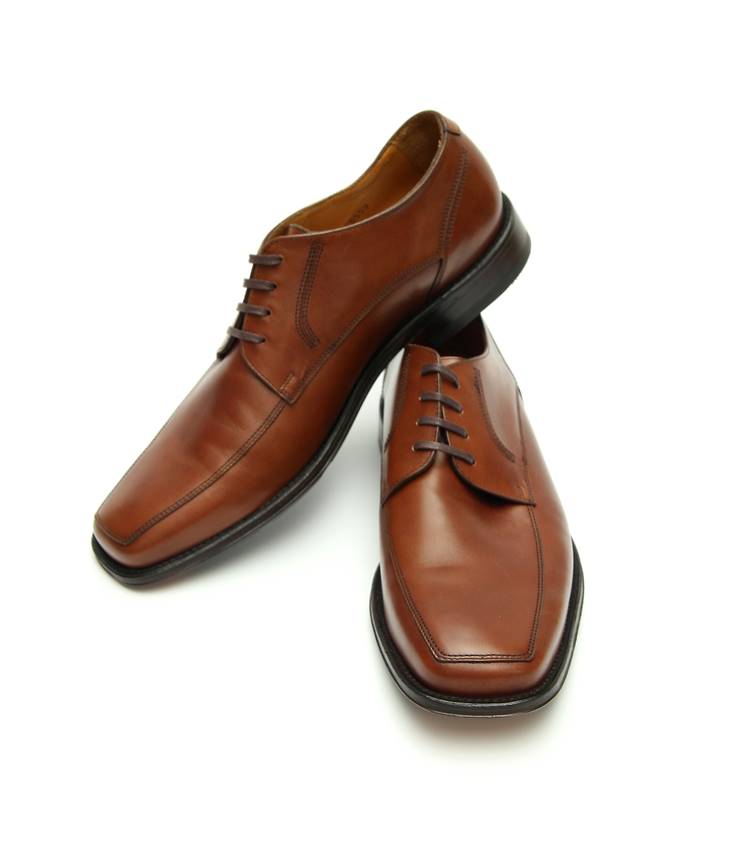 Slip-ons – Shoes that don't have any securing mechanism such as lacings or fastenings. Most popular shoes of this type are loafers and elastic-side shoes.
Plain-toes – Design that doesn't features additional layer of material on the vamp in the area of toes.
Cap-toes – Much more popular design, it features extra layer of leather that caps the toes.
Women's Shoes
High-heeled footwear – Most commonly used in formal occasions and social outings. They feature heel that is typically 2 inches high.
Stilettos – Invented as a high fashion accessory, this type of heels is very popular among women. It features long and very narrow heel post.
Slingbacks – High heeled shoes that are secured not by over the top straps, but ones that go behind the heel.
Mules – Shoes or slippers that have no fastenings around the ankle. They can have small or high heel, and only fastenings is located around the toes and lower part of feet.
Ballet flats – They are popular in warm environments, and feature very low and flat heel.
Court shoes (pumps) – Popular high-heeled shoes that can be easily slipped-on.
Unisex Shoes
Sandals – Popular throughout the history as one of the simplest footwear to be found. They feature minimal amount of straps that leave much of the foot exposed to the air.
Slippers – Used mostly indoors, similar to sandals, only with the vamp that overs one half of the foot.
Moccasin – Popularized by Native Americans, this soft leather shoe has no heel and is usually intended for outdoor use.
Platform shoe – It features very thick soles and heels. It was used in ancient Greece as a sign of wealth, and in recent times as a fashion item.
Boots – Universal foot ware for harsh environments, made from leather or rubber.
Slip-on shoe – Casual foot ware that features no laces.
Sneakers – Popular casual shoes that are made from leather, canvas and rubber. They were introduced in 1917 and ever since then they remain extremely popular across entire world.
Athletic Shoes
Various sports demand from the user to protect their feet in specific ways. Some of the most popular shoes for such activities are running shoes (they have emphasis on cushioning), track shoes (featuring metal spikes for additional friction with the ground), climbing shoes (lightweight with rubber exterior), skating shoes (modeled to accept skating attachments), cycling shoes (modeled to better interact with bicycle pedals) and wrestling shoes (modeled to provide protection and additional traction).
Dance Shoes
Dance shoes are specific type of shoes that is used by many. Some of the most popular ones are Ballet shoes (made from soft materials), pointe shoes (made for ballet dancing, with hardened sole so dancers can stand on the tip of their toes), ballroom shoes (created either for traditional dances or for Latin American dances), dance sneakers, tap shoes, tango and flamenco shoes and jazz shoes.